All confirmed COVID-19 incidents related to Empire Union School District school sites will be posted to this page. For the purposes of this dashboard, EUSD is not counting community-related cases for those individuals who have not come onto campus within close contact of other students and staff. EUSD is counting all positive confirmed cases for individuals who have been on campus within close contact of others for EUSD or school supervised instruction or activities during their infectious period. Once the District learns of an individual who has tested positive at a school site, these steps will be followed:
Isolate individuals if present and advise of any required self-quarantine

Consult with SCHSA, Public Health

Clean and treat any affected areas

Contact trace within EUSD to determine close contacts*

Immediately notify anyone within EUSD determined to have had close contact* and advise of any required quarantine/modified quarantine

Notify anyone who may have been in proximity, such as in the classroom, school, or office

Follow any additional recommendations from the SCHSA, Public Health
*Close Contact is defined as any individual who was within 6 feet of an infected person for at least 15 minutes, cumulative, starting from 2 days before illness onset (or, for asymptomatic patients, 2 days prior to positive specimen collection) until the time the patient is isolated.
NOVEMBER 22, 2021 - NOVEMBER 29, 2021
Below is a list of all confirmed COVID-19 incidents related to EUSD school sites for the week of November 22 - November 29. The Dashboard will be updated every Tuesday by 5:00 PM.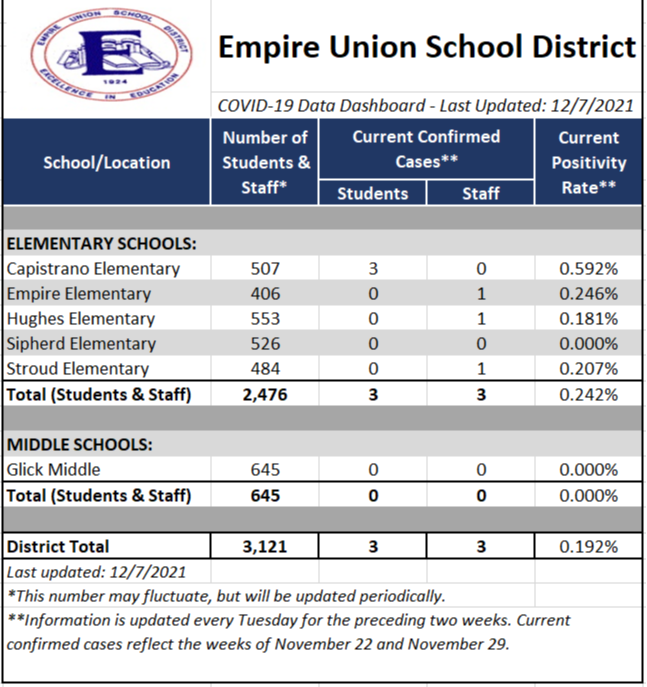 State of California Safe Schools For All Hub
The Safe Schools For All Hub consolidates key resources and information related to COVID-19 and schools. New resources will be added to the Hub on a routine basis. The link to the Safe Schools For All Hub is: School Hub